iCarsoft V1.0 / V2.0 / V3.0 updates
The iCarsoft V1.0, V2.0 and V2.0 include the models listed below.
iCarsoft V1.0 devices:
iCarsoft V2.0 devices:
iCarsoft V3.0 devices:
Universal devices:
1. Download de iCarsoft update software
Download the iCarsoft_MSDIAG_PCClientKits.exe package from iCarsoft here

2. Installation
Open the .zip file and double-click the .exe installation file, click the next button [Next] and complete the installation.


3. Connect the iCarsoft to the PC.
Connect the scanner to the PC via a USB data cable or via a TF card reader, the PC will recognize a removable disk.

4. Launch the software
Run the application iCarsoft_MSDIAG_PCClientKits on your PC, the application will automatically recognize the iCarsoft by its serial number (SN).
Should this not happen automatically for one other reason, perform the actions below:
4.1 Enter SN and UID
If you have a new TF memory card to upgrade, the application cannot recognize the SN and UID, the SN and UID will be prompted. Enter the SN and UID displayed on the iCarsoft screen to continue.

5. Log in / register (PC must connect to internet)
Click the [Upgrade] button to log in and visit the upgrade center. When the scanner first visits the upgrade center, the registration step will be prompted. Submit your email and UID displayed on the iCarsoft screen to complete the registration.

Exception:
5.1 Application self-upgrading
If the application iCarsoft_MSDIAG_PCClientKits has a new version in the upgrade center, the application upgrade is prompted, choose [YES] to download the newer version and then to install automatically.

6. Upgrade
Press the download button to start the software upgrade.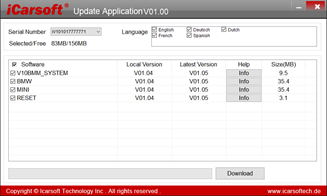 Select About from the main menu, the versions are displayed in a table: