OBD2 Serial interface DB9 adapter RS232
Got a question about this product?
Our team is ready to answer all your questions.
FAQ
Contact us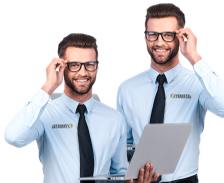 What can you do with the OBD2 serial interface RS232?
This cable takes the connector from serial (DB9) to standard OBD-2 (16 pin). The cable can be used for various applications including:
Replacing a faulty cable from your diagnostic device
To connect your car with homemade hardware
However, it is important to consider the application that your diagnostic device, hardware and/or software has support for a serial connection. It is often not possible to use modern software with a serial cable, this often requires a USB interface. An example of software that works with this cable is EASunlock for the Range Rover p38.

What are the specifications of the OBD DB9 serial adapter?
The specifications of the cable are as follows, if you have any questions in response, please contact us using our contact form.
Type: OBD2 to DB9 (RS-232 port)
Plug: straight, OBD2 16 pin to DB9 9 pin
Cable length: 100 cm
What do you get delivered?

You will be supplied with a serial DB9 adapter for an OBD2 plug. No software or other equipment is supplied with this cable.
Advantages & drawbacks
Replacing a faulty cable from your diagnostic device
Connecting your car with homemade hardware
Suitable for the Range Rover P38 and EASunlock
Limited application
No reviews have been published.