Porsche 19 Pin OBD1 - 16 Pin OBD2 Adapter
Porsche 19 Pin OBD1 - 16 Pin OBD2 Adapter
Dit is een verloopkabel geschikt voor oudere Porsche modellen met een ronde 19 pins OBD1 aansluiting naar 16 pins OBD2 . Als uw Porsche niet in bezit is van een OBD2 aansluiting, dan kunt u deze verloopstekker gebruiken om een uitleesapparaat aan te sluiten. De diagnoseapparatuur dient wel geschikt te zijn voor OBD1. Verderop in de beschrijving vindt u welke modellen gebruik maken van de 19 pins aansluiting en waar deze zich bevindt in uw Porsche.
Read more
Got a question about this product?
Our team is ready to answer all your questions.
FAQ
Contact us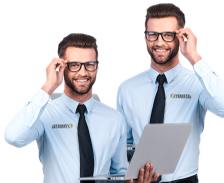 Waarvoor is de Porsche 19 Pin OBD1 - 16 Pin OBD2 verloopkabel?
Deze verloopkabel zorgt ervoor dat er van een 19 pin OBD1 aansluiting een OBD2 aansluiting wordt gemaakt. Om uw Porsche met de oude OBD1 aansluiting uit te lezen heeft u hiernaast nog een uitleesapparaat nodig die ook OBD1 kan uitlezen. Een overzicht van Porsche OBD1 uitleesapparatuur vindt u onderaan de pagina.
Specificaties van de Porsche OBD1 verloopkabel
Stekker: 19 pins OBD1 aansluiting naar standaard 16 pins OBD2 aansluiting
Lengte kabel: 30cm
Enkel geschikt voor auto's met OBD1. In de regel zijn dit de Porsche's voor bouwjaar 1996. Ook het diagnoseapparaat dat u aansluit dient overweg te kunnen met OBD1.
Gemaakt van sterke materialen en daarom ook geschikt voor intensief gebruik
Voor welke Porsche modellen is deze verloopkabel geschikt en waar bevindt de aansluiting zich?
De diagnoseaansluiting zit op verschillende plekken bij de modellen. Om zoekwerk te besparen, hebben wij ze hieronder voor u op een rijtje gezet.
Porsche 928: onder de zijklep van middenconsole naast de passagiersstoel
Porsche 944: onder het dashboard aan de passagierszijde
Porsche 968: onder het dashboard aan de passagierszijde
Porsche 911:
Porsche 964: langs het stootpaneel aan de passagierszijde achter een ronde afdekking
Porsche 993 (vroege modellen): langs het stootpaneel aan de passagierszijde achter een ronde afdekking
Wat krijgt u geleverd?
Porsche 19 pins OBD1 naar 16 pins OBD2 verloopkabel
Waarom een Porsche 19 pin verloopkabel kopen?
Als u in het bezit bent van een oudere Porsche, voor bouwjaar 2001, dan bezit uw Porsche nog geen OBD2. Veel modellen tot circa bouwjaar 1996 maken gebruik van een 19 pin diagnosestekker. Om uw Porsche met dergelijke soort aansluiting uit te lezen heeft u deze verloopkabel nodig, plus een geschikt diagnosetoestel die met oudere OBD1 aansluitingen overweg kan. Let op dat deze kabel niet geschikt is voor Durametric systemen, deze hebben een andere pin-out nodig. Neem hiervoor contact met ons op.
Advantages & drawbacks
Met behulp van deze verloopkabel kan met een compatible uitleesapparaat ook een oudere Porsche voor bouwjaar 2001 uitgelezen worden
Robuuste materialen voor eindeloos gebruik
Werkt alleen met uitleesapparaten die ook het OBD1 protocol ondersteunen
Specs summary
Manufacturer

Porsche

Features

Adapter, Verloopkabel
No reviews have been published.