Porsche Diagnostic Interface PoCOM
Porsche Diagnostic Interface PoCOM
The PoCOM is a diagnostic interface for Porsche. Porsche's from the year 1989 with OBD1 and Porsche's from the year 1996 with OBD2 are supported. The PoCOM is a worthy alternative to, for example, the PIWIS, PIWIS II or Durametric. The Porsche models can be read via the standard OBDII connection, or via the Porsche specific OBDI connection. The PoCOM is a USB interface. This means that the interface works via supplied software on a PC/laptop.

✓ Works on cars from 1989 onwards, both OBD1 and OBD2/EOBD.
✓ (Automatically) read and erase error codes in all available modules
✓ Live data display + logging
✓ Oil/service reset function
✓ Actuator testing
✓ Programming/learning components/ECU
Read more
Got a question about this product?
Our team is ready to answer all your questions.
FAQ
Contact us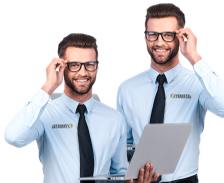 PoCOM OBD2 diagnostic interface
In addition to its very comprehensive OBD1 and OBD2 readout capabilities, the PoCOM is also very easy to use. The software is regularly provided with updates and new functionality by the manufacturer. It is also possible to request missing functionality from the manufacturer, through a unique logging system you can send data from your vehicle to the manufacturer for development of new functions. If you are used to working with software such as VCDS or Durametric, you can immediately start using the PoCom without any problems.
Hardware interface
The PoCOM interface includes 2 multiplexed K-Lines and L-Line ( ISO9141), high-speed CAN is also present with analog measurement circuits. The supported protocols are:
CAN-bus
KW-71
KW-1281
KWP2000
VWO TP1.6
VWO TP2.0
ISO15765
UDS ISO14229
Key capabilities
The main features of the PoCOM interface are:
Complete multiplexed USB2 interface
Automatic ECU recognition
Automatic vehicle scan
ECU identification
Error code reading (DTC)
Erase error codes
Live data and readings
Live data recording and playback
Printing of diagnosis
Testing (controlling) actuators
Coding of components
Configuration
Supported models
Porsche 718 2016-2018 (982)
Porsche 911 1989-2018 (964, 993, 996, 997, 991)
Porsche 918 Spyder 2013-2015 (918)
Porsche 928 1989-1995 (928)
Porsche 944 1989-1991 (944)
Porsche 968 1992-1995 (968)
Porsche Boxster 1997-2018 (986, 987, 981, 982)
Porsche Carrera GT 2002-2006 (980)
Porsche Cayenne 2002-2018 (955 E1, 957 E1, 958 E2)
Porsche Cayman 2005-2018 (987, 981, 982)
Porsche Macan 2014-2018 (95B)
Porsche Panamera 2009-2018 (970 G1, 971 G2)
What do you get delivered?
PoCOM Porsche diagnostic interface
USB cable
Quick start manual
Advantages & drawbacks
Works on cars from year 1989 onwards, both OBD1 and OBD2/EOBD
(Automatically) read and clear error codes in all modules present
Live data display + logging
Oil/service reset function
Component/actuator testing
Programming/learning components/ECU
Free updates to the software with new features and models
A computer running Windows is required
Specs summary
Manufacturer

Porsche

Device properties

Free updates, Updates, Connect to computer

Features

ABS, Controlling Actuators, Adapter, Airbag, Teach in, Operate electronic parking brake, Erase fault codes, Freeze frame, Teach in throttle valve, Parts coding, Interface, Lambda probe / o2 sensors, Live data, Engine diagnostics, Engine management reset, Oil reset, Coding, Brake pad reset, DPF regeneration, Service reset, Immobilizer, Calibrate steering angle sensor, Transmission

Protocol

CAN, EOBD, ISO 9141, J1850 PWM, J1850 VPW, K-Line, KWP-2000, OBD1, OBD2
Review by Marco
Is very user fri...
Is very user-friendly and recommendable to everyone
31-08-2020