In deze handleiding wordt beschreven hoe de Tesla diagnosekabel aangesloten kan worden in de Model 3.

Benodigheden:
Geschikte app, zoals Scan My Tesla of TM-Spy
Model 3 installatie:
VOORDAT JE BEGINT!
De Tesla Model 3 MOET worden uitgeschakeld voordat de kabel in de diagnoseaansluiting wordt gestoken. Het uitschakelen duurt 15 minuten en wordt uitgevoerd vanaf het hoofdscherm in de Tesla. Als je de auto niet uitschakelt voordat je de kabel in de diagnoseaansluiting heeft gestoken, kan ujow auto beschadigd raken en kunnen er fouten optreden.
Locatie van de diagnoseaansluiting in de Model 3:
De Model 3 diagnoseaansluiting bevindt zich aan de achterkant van de middenconsole, onder de luchtroosters, en is toegankelijk vanuit de beenruimte achter, na het verwijderen van de afdekking van de achterste middenconsole.
Hoe bij de diagnoseaansluiting te komen?
Schuif beide voorstoelen helemaal naar voren.
Ga naar de achterbank van het voertuig en zoek het kleine plastic paneel onderaan de middenconsole tussen de twee voorstoelen. Dit paneel wordt op zijn plaats gehouden door vijf push-fit clips. De clips komen los wanneer er druk op wordt uitgeoefend, waardoor het paneel kan worden geopend. Het paneel is ontworpen om met de hand te worden verwijderd.

Schuif met een inbussleutel of L-vormige schroevendraaier het korte uiteinde van het gereedschap onder het paneel aan de rechterkant.
Draai het gereedschap zodat het korte uiteinde verticaal is.
Trek naar je toe, parallel aan de vloer.
De clip rechtsonder die het paneel op zijn plaats houdt, zou nu los moeten zitten.
Gebruik je handen om het paneel naar je toe te trekken en maak de clip rechtsboven los.
Maak de overige drie clips los en open ze en trek het paneel vrij

In het paneel vind je de Tesla Proprietary Diagnostic Connector.
Druk op de clip die de witte connector op zijn plaats houdt en schuif naar links om hem los te maken.
Steek vervolgens de twee witte uiteinden van de kabels op de overeenkomstige connectoren in het voertuig.
Duw totdat ze op hun plaats klikken. De connectoren passen maar op één manier.
Vervolgens kun je de OBDLink dongle aansluiten en verbinden met uw telefoon of tablet.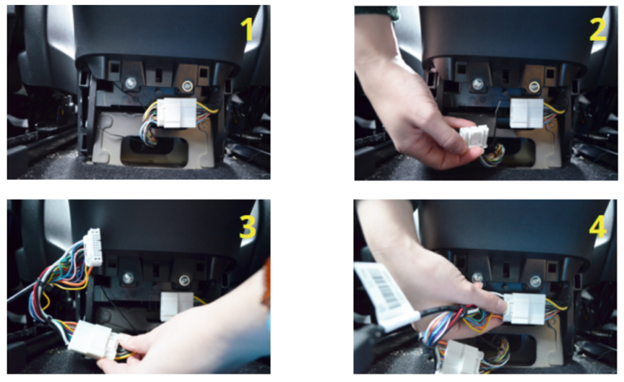 Let op: Het aansluiten van apparatuur op jouw Tesla gebeurt geheel op eigen risico. OBD Warenhuis kan niet verantwoordelijk worden gehouden voor enige schade aan jouw voertuig veroorzaakt door verkeerd gebruik van dit product. De gebruiker is verantwoordelijk voor het controleren van eventuele schade aan de kabel vóór gebruik. Zowel bij ontvangst als voor elk gebruik. De kabel die we leveren is een adapter waarmee je de gegevens van de auto kunt aflezen. De kabel maakt gebruik van de CAN hi- en Lo-signalen van de auto en voorziet de OBD dongle ook van stroom.