Tesla Model S <2016 kabel
In deze handleiding wordt beschreven hoe de Tesla diagnosekabel aangesloten kan worden in de Model S voor bouwjaar 2016.

Benodigheden:
Geschikte app, zoals Scan My Tesla of TM-Spy
Model S installatie:
Zet het voertuig AAN.
Verwijder het passagierspaneel aan de passagierszijde om de gepatenteerde diagnostische connector van Tesla zichtbaar te maken. Het paneel is bevestigd met meerdere drukknoppen. Je moet enige kracht uitoefenen om het paneel los te maken, maar je kunt er zeker van zijn dat het ontworpen is om verwijderd te worden.

Zoek in de ruimte achter de opslaglade om de diagnostische connector te vinden als deze niet onmiddellijk zichtbaar is (pijl in onderstaande afbeelding). Als je de connector moeilijk kunt bereiken, probeer dan met een punttang of een soortgelijk hulpmiddel om de connector naar je toe te trekken.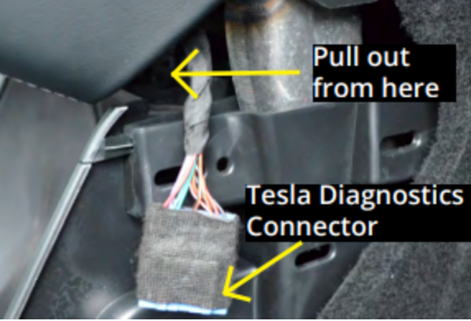 Trek de kabel voorzichtig naar je toe en sluit de diagnosekabel in het open uiteinde van de diagnoseconnector.
Duw totdat ze op hun plaats klikken. De connectoren passen maar op één manier.
Vervolgens kun je de OBDLink dongle aansluiten en verbinden met jouw telefoon of tablet.
Let op: Het aansluiten van apparatuur op jouw Tesla gebeurt geheel op eigen risico. OBD Warenhuis kan niet verantwoordelijk worden gehouden voor enige schade aan jouw voertuig veroorzaakt door verkeerd gebruik van dit product. De gebruiker is verantwoordelijk voor het controleren van eventuele schade aan de kabel vóór gebruik. Zowel bij ontvangst als voor elk gebruik. De kabel die we leveren is een adapter waarmee je de gegevens van de auto kunt aflezen. De kabel maakt gebruik van de CAN hi- en Lo-signalen van de auto en voorziet de OBD dongle ook van stroom.