BMW 20 Pin OBD1 - 16 pin OBD2 Adapter
BMW 20 Pin OBD1 - 16 pin OBD2 Adapter
This BMW adapter cable is especially for connecting your reader with 16 pin OBD connector to your BMW with 20 pin connector. You need this adapter to connect a reader to your older BMW. To read out a BMW with this 20 pin connection, you must be in possession of a reader that is OBD1 compatible.
Read more
Got a question about this product?
Our team is ready to answer all your questions.
FAQ
Contact us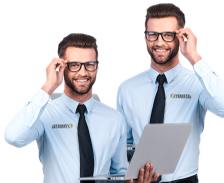 What is the BMW 20 pin adapter for?
This BMW 20 pin adapter is specifically for connecting your error code reader with 16 pin connector to your BMW with OBD1 20 pin connector. The round 20 pin connector can be found in BMWs produced up to the year 2001. Some BMWs are equipped with 2 diagnostic connectors; the round 20 pin connector under the hood and the OBD 16 pin connector near the dashboard. When 2 connectors are present, you should use the round 20 pin connector under the hood, because through this connector most modules can be read. The 20 pin socket under the hood is often found very close to the engine block. The connector is very easy to reach and is sealed around a cap.
Specifications of the BMW OBD1 to OBD2 adapter cable
Connector: round 20 pin OBD1 connector to standard 16 pin OBD2 connector
Cable length: 28cm
Only suitable for BMWs with OBD1. Also the reader you connect must be able to work with OBD1.
Robust materials, also suitable for intensive use
What do you get delivered?
BMW 20 Pin OBD1 - 16 pin OBD2 adapter cable; suitable for connecting to any OBD1 compatible diagnostic device
Why buy a BMW 20 pin adapter cable?
If you own an older BMW, pre-2001, your BMW has a round 20-pin diagnostic port. To read your BMW, you will need this adapter cable and a suitable diagnostic tool that can handle older OBD1 connections. Through the 20-pin connection under the hood, with the appropriate readout tool, you can read out most systems in your BMW. Via the 16-pin connection near your dashboard, some functions may not work, as they are not yet fully supported.
Advantages & drawbacks
Using this adapter cable, you can also use a compatible reader to read out an older BMW before 2001.
Rugged materials for endless use
Works only with readers that also support the OBD1 protocol
Often purchased together with...
Specs summary
Manufacturer

BMW

Features

Adapter, Converter Cable
Review by Ben
Works perfectly on me....
Works perfectly on my E46 320ci (1999).
02-03-2023
Review by Gerry Boeckxstaens
...
28-11-2022
Review by omid
quality of toeste...
quality of appliance, best price,
12-07-2022
Review by Alpinaron
Works fine for old...
Works fine for older BMW models
21-06-2022
Review by M.postma
For the older type ...
For the older type of cars, a necessity.
08-02-2022
Review by BMW Z3
Works just fine...
Works just fine
16-08-2021
Review by dibit
works fine , considering...
works fine , seen at a friend's house.... since I am still waiting for my packet.......GLS is really a drama
25-06-2021
Review by Jack Smith
Works perfectly! The be...
Works perfectly! The description was correct and product was packed with care.
16-11-2020
Review by Marcel
Useful for bmw oldt...
Useful for bmw oldtimers to read them out
04-06-2020
Review by Richard Boom
Not to be missed for ...
Not to be missed for the older bmw models.
04-02-2020
Review by JWM Killaars
to date, I have ...
to date I have not seen it perform anything,because the readout equipment does not read out This does not read out the 1998 318i (e46) and the 2009 318.
27-01-2017
Review by R.A. van Ham
Is plug and play, en...
Is plug and play, and works without problems.
24-08-2016