BMW 20 Pin OBD1 - 16 pin OBD2 Adapter
BMW 20 Pin OBD1 - 16 pin OBD2 Adapter
Deze BMW verloopkabel is speciaal voor het aansluiten van uw uitleesapparaat met 16 pins OBD aansluiting naar uw BMW met 20 pins aansluiting. Deze verloopstekker heeft u nodig om een uitleesapparaat op uw oudere BMW aan te sluiten. Voor het uitlezen van een BMW met deze 20 pins aansluiting, dient u wel in het bezit te zijn van een uitleesapparaat die OBD1 compatible is.
Read more
Got a question about this product?
Our team is ready to answer all your questions.
FAQ
Contact us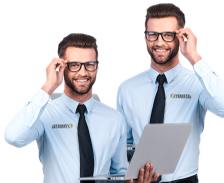 Waarvoor is de BMW 20 pins adapter?
Deze BMW 20 pins verloopstekker is specifiek voor het aansluiten van uw foutcodelezer met 16 pins aansluiting op uw BMW met OBD1 20 pins connector. De ronde 20 pin aansluiting vindt u in BMW's geproduceerd tot bouwjaar 2001. Sommige BMW's zijn uitgerust met 2 diagnoseaansluitingen; de ronde 20 pin stekker onder de motorkap en de OBD 16 pins stekker bij het dashboard. Wanneer er 2 stekkers aanwezig zijn, dient u gebruik te maken van de ronde 20 pins aansluiting onder de motorkap, omdat via deze aansluiting de meeste modules uitgelezen kunnen worden. De 20 pins aansluiting onder de motorkap vindt u vaak erg dicht bij het motorblok. De aansluiting is erg makkelijk bereikbaar en is afgesloten om een dop.
Specificaties van de BMW OBD1 naar OBD2 verloopkabel
Stekker: ronde 20 pins OBD1 aansluiting naar standaard 16 pins OBD2 aansluiting
Lengte kabel: 28cm
Enkel geschikt voor BMW's met OBD1. Ook het uitleesapparaat dat u aansluit dient overweg te kunnen met OBD1.
Robuuste materialen, ook geschikt voor intensief gebruik
Wat krijgt u geleverd?
BMW 20 Pins OBD1 - 16 pin OBD2 verloopkabel; geschikt voor het aansluiten om een OBD1 compatible diagnoseapparaat
Waarom een BMW 20 pins verloopkabel kopen?
Als u in het bezit bent van een oudere BMW, voor bouwjaar 2001, dan bezit uw BMW een ronde 20 pins diagnosepoort. Om uw BMW uit te lezen heeft u deze verloopkabel nodig, plus een geschikt diagnosetoestel die met oudere OBD1 aansluitingen overweg kan. Via de 20 pins aansluiting onder de motorkap, met de juiste uitleestool, kunt u de meeste systemen uitlezen in uw BMW. Het kan zijn dat via de 16 pins aansluiting bij uw dashboard sommige functies niet werken, omdat deze nog niet volledige ondersteund worden.
Advantages & drawbacks
Met behulp van deze verloopkabel kan met een compatible uitleesapparaat ook een oudere BMW voor bouwjaar 2001 uitgelezen worden
Robuuste materialen voor eindeloos gebruik
Werkt alleen met uitleesapparaten die ook het OBD1 protocol ondersteunen
Often purchased together with...
Specs summary
Manufacturer

BMW

Features

Adapter, Verloopkabel
No reviews have been published.