Foxwell NT530 BMW / Mini
De Foxwell NT530 is een professionele OBD2 codelezer voor iedereen die een BMW, Mini of Bentley wil uitlezen, van de gevorderde hobbyist, tot aan een professioneel garagebedrijf. Het apparaat biedt ondersteuning voor oude BMW's, maar ook voor de nieuwe F en G modellen. Door het flexibele softwarebeleid, is het OBD2 diagnosesysteem makkelijk uit te breiden naar smaak met ondersteuning voor verschillende merken.
De foutcodelezer levert op OE niveau ondersteuning en diagnostiek op bijna alle elektronische systemen bij BMW of Mini. Lees hieronder meer over de mogelijkheden. Wil je weten of dit apparaat geschikt is voor jouw auto? Kijk dan onderdaan aan de pagina in de functielijsten. Het kan namelijk zijn dat de nieuwste modellen nog niet ondersteund worden.
✓ EOBD/OBD2 motormanagement diagnose
✓ OBD1 diagnose
✓ Diagnose van alle modules
✓ Live data en Freeze Frame data weergave
✓ Actuatoren aansturen, adaptiewaardes resetten
✓ Programmeren en onderdelen inleren
✓ Service mogelijkheden: olie/service reset, SAS, roetfilter, EPB, SRS
Read more
Got a question about this product?
Our team is ready to answer all your questions.
FAQ
Contact us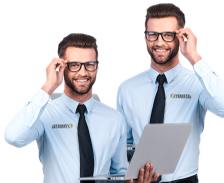 De NT530 voor BMW en Mini
Met dit diagnoseapparaat ben je in staat auto's uit te lezen waar de meeste moderne scanners nog geen ondersteuning voor hebben, zoals de moderne F en G modellen van BMW. Je bent echter niet beperkt tot alleen de merken BMW en Mini. De scantool is uit te breiden met maximaal 4 extra modules van verschillende merken/groepen. Het uitbreiden kan direct bij aankoop, of later wanneer wanneer je het nodig hebt. Met dit flexibele systeem, hoef je niet een grote investering in een keer te doen, je kan upgraden wanneer jij wilt.
Functionaliteiten Foxwell NT530
Naast de standaard OBD2 uitleesfuncties, heeft de NT530 ook mogelijkheden aan boord die tot nu toe alleen in duurdere diagnoseapparatuur en interfaces te vinden waren. Hieronder een lijst met functies van de Foxwell NT530
Live data weergeven
Generieke OBD2 foutcodes uitlezen
BMW specifieke foutcodes uitlezen
Mini specifieke foutcodes uitlezen
Actuatoren aansturen

Aanpassingen in de software van de auto maken
Programmeren van modules in verschillende ECU's
Ondersteuning voor EPB/SBC
Kijk voor alle functionaliteiten onderaan de pagina in de functielijsten
Toepassingen van de foutcodelezer
Er kunnen een legio aan reparaties en/of aanpassingen uitgevoerd worden, welke tot voor kort exclusief voorbehouden waren aan dealers
Gasklephuis inleren
Service interval resetten
Olieinterval resetten
Adaptiewaardes resetten
Roetfilter genereren
Koplampen afstellen
Kalibratie van de stuurhoeksensor
Inleren van nieuwe onderdelen
Inleren van vervangen onderdelen
Openen en sluiten van elektronische remklauwen
Kijk voor alle toepassingen onderaan de pagina in de functielijsten (downloads)
Updates

Na registratie van de Foxwell scanner, ontvang je levenslange gratis updates. De updates zijn te installeren via de FoxAssist software.
Advantages & drawbacks
EOBD/OBD2 motormanagement diagnose
OBD1 diagnose
Diagnose van alle modules
Live data en Freeze Frame data weergave
Actuatoren aansturen, adaptiewaardes resetten
Programmeren en onderdelen inleren
Service mogelijkheden: olie/service reset, SAS, roetfilter, EPB, SRS
Enkel geschikt voor BMW en Mini (wel te upgraden met andere automerken!)
Windows computer of laptop nodig om de software op de tester te installeren
Often purchased together with...
Specs summary
Manufacturer

BMW, Mini, Rolls-Royce

Device properties

Gratis updates, Uitleesapparaat, Updates

Features

ABS, Accu inleren, Actuatoren aansturen, Airbag, Coderen, Componenten testen, Elektronische parkeerrem openen, Foutcodes wissen, Freeze frame, Gasklep inleren, Injectoren inleren, Inleren onderdelen, Lambdasonde / o2 sensors, Live data, Motor uitlezen, Motormanagement reset, Olie reset, Programmeren, Remblok reset, Roetfilter regeneren, Scantool, Service reset, Startonderbreker / immo, Stuurhoeksensor kalibreren, Transmissie

Protocol

CAN, EOBD, ISO 9141, J1850 PWM, J1850 VPW, K-Line, KWP-2000, OBD1, OBD2
No reviews have been published.