Foxwell NT301 OBD II Universal Scanning Tool MOT
Foxwell NT301 OBD II Universal Scanning Tool MOT
The Foxwell NT301 is the easiest EOBD/OBD2 error code reader to properly and quickly diagnose engine management. Errors are found quickly and effectively through the I/M Readiness function. Also, live data display is possible on the NT301's color screen. Resetting error codes (DTCs) and turning off the engine management light is done with a few button presses.
✓ EOBD reader suitable for MOT2 rules
✓ Read out and erase engine error codes
✓ Live data displayed
✓ Emission test at the touch of a button
✓ Display O2 sensor data
✓ Manual
✓ Free updates
Read more
Got a question about this product?
Our team is ready to answer all your questions.
FAQ
Contact us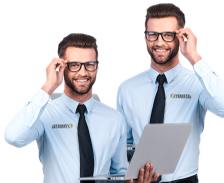 Foxwell NT301
The Foxwell NT301 works with all OBD2/EOBD compatible passenger cars, SUVs, hybrid cars and vans, gasoline cars from the year 2001 and diesel cars from the year 2004. The scan tool is very easy to use and is plug and play, connect to the OBD port, car on ignition and the device starts up. Through the clear color screen, information is easy to read, such as live data, error codes or additional information.
The functionalities of the NT301
Compatible with all EOBD and OBD2 vehicles (gasoline from the year 2001 and before and diesel from the year 2004 and before)
Reading and erasing error codes (DTCs)
Diagnosis of emission status at the touch of a button
MOT2 certified
Automatic VIN/chassis number recognition
Clearing of the engine malfunction light (MIL)
Freeze Frame data readout from the moment the engine failure occurred
Live data readout
Display sensor data in graphs
Reads O2 sensor data
Reads vehicle information (VIN, CID and VCN)
Error code database with thousands of error codes and their meanings
Multilingual menu structure
Unique 1-click update function
Lifetime free updates
2.8 inch TFT color display
Hotkeys to save frequently used functions
What gets delivered?
The Foxwell NT301 comes with the following accessories:
Foxwell NT301 scanning tool
Manual
USB cable
Updates
Updates for the Foxwell NT301 are free for life after depreciation. Updating is child's play with the so-called 1-click update from Foxwell.
Advantages & drawbacks
EOBD/OBD2 reader suitable for MOT2 rules
Reading and clearing engine error codes
Live data displayed
Emissions test
O2 Sensor data display
Free updates
Limited to reading and erasing error codes in the engine
Often purchased together with...
Specs summary
Manufacturer

Abarth, Alfa Romeo, Aston Martin, Audi, BMW, Bentley, Chevrolet, Chrysler, Citroën, Dacia, Daihatsu, Dodge, Ferrari, Fiat, Ford EU, Ford USA, General Motors, Honda, Hyundai, Infiniti, Jaguar, Jeep, Kia, Lamborghini, Lancia, Land Rover, Lexus, Maserati, Mazda, Mercedes, Mini, Mitsubishi, Nissan, Opel, Peugeot, Porsche, Renault, Rolls-Royce, Saab, Seat, Skoda, Smart, Subaru, Suzuki, Iveco, Toyota, Universeel, Volkswagen, Volvo

Device properties

MOT, Free updates, Handheld, Updates

Features

Erase fault codes, Freeze frame, Lambda probe / o2 sensors, Live data, Engine diagnostics, Engine management reset, Scantool

Protocol

CAN, EOBD, ISO 9141, J1850 PWM, J1850 VPW, K-Line, KWP-2000, OBD2
Review by Francois Holsters
Works fine and good...
Works fine and good description included
03-10-2022
Review by Bart Verbeken
Does what it should, c...
Does what it should, correct price.
19-09-2022
Review by Surena
I had a relatively ...
I needed a relatively inexpensive scan tool to view live data and reset codes. This scan tool can do this with ease and worked on all three cars I own. From American to Japanese.
24-05-2022
Review by Rudy Bogaerts
Excellent device a...
Excellent device at a reasonable price that does what was promised and with Dutch screens and manual in Dutch was forwarded by email.
31-03-2022
Review by Mm-motorsport
Very easy to me...
Very easy to work with Cheap Works on all vehicles
04-01-2022
Review by Johan Van der meer
Good product easily...
Good product easy to use
12-11-2020
Review by Jilke Marinus/Autobedrijf Marinus
Fast device and sim...
Fast device and simple to operate
11-09-2020
Review by PASCAL DE BELDER
dutch use...
dutch user manual
25-08-2020
Review by b.vliegenthart
Simple, easy...
Simple, easy to use.
13-07-2020
Review by Walter
Cannot service cod...
Cannot clear service codes .
27-02-2020
Review by Jhon De Brabanter
Very easy to ...
Very easy to work with and strong housing
17-02-2020
Review by verstraete john
Does what it needs to do...
Does what it needs to do, and easy to use. Also gets a Dutch description in the mail. Super product and definitely recommend it.
23-07-2019
Review by anonymous
The Dutch gebru...
I like the Dutch instruction manual,at other companies it is usually in another language
01-07-2019
Review by anonymous
Good and clear pr...
Good and clear product good price
09-01-2019
Review by hans
easy product. N...
easy product. Dutch manual unique at OBDwarenhuis.
31-12-2018
Review by anonymous
Well, does what I ge...
Good, does what I had hoped for. Would have expected a bit more for that price though
28-11-2018
Review by anonymous
Works properly e...
Works properly and very clear description.
08-11-2018
Review by Kasper
As a self-employed handyman, ...
As a DIYer, I was looking for an OBD scanner for a problem with my car. Using the Foxwell NT301 found the problem (error code with description). With the help of the internet eventually also managed to fix the problem. The device itself works very intuitively for me, although I have to say that I am technically inclined. The device is comfortable to hold and the screen is clearly legible. Furthermore, so far the cable is long enough (two cars tested). The manual is clear and the ability to update the device for free is also nice. In short: an excellent tool for the DIYer.
08-10-2018
Review by anonymous
Gives a lot of info as well ...
Gives lots of info also Dutch explanations
23-07-2018
Review by Henk
very suitable for pa...
very suitable for private person and ease of operation so you don't have to go directly to the garage for reset for every malfunction and nice price.
23-07-2018
Review by anonymous
He does ze best voo...
He does she best for the small price I find very practick
06-07-2018
Review by geen bedrijf
Too bad there I had ...
pity there I had little what to use it for did not fullfill it
26-03-2018
Review by Chris Vogel
Works immediately and is s...
Works instantly and is simple! I recommend it to any novice auto mechanic this one!
08-02-2018
Review by anonymous
Recommended.For a...
Recommended.For a reasonable price . View data very interesting
07-02-2018
Review by Pieter Nieuwenhuijs / 3C Group International
I drive a Nissan P...
I drive a Nissan Pathfinder in Nicaragua. It is very important for me to keep the car in good condition as a car is indispensable in that country. This scanner is affordable and meets all expectations.
16-11-2017