OBD2 Extension Cable Straight 16 pin 100cm
OBD2 Extension Cable Straight 16 pin 100cm
The extension cable in straight design can be used on a standard OBD2 connector to extend the cable at the diagnostic device. If the OBD connector hinders while driving, the connector can be moved to another place by using the extension cable. For example, it helps to get a stronger signal by moving the wireless diagnostic device, if the signal is not strong enough when the connector is too far under the steering wheel.
Read more
Got a question about this product?
Our team is ready to answer all your questions.
FAQ
Contact us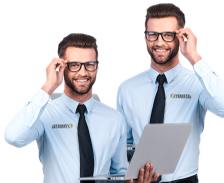 OBD2 extension cable 100cm straight
When the OBD port in your car is not easily accessible, the cable from your diagnostic equipment is not long enough, or the signal from the wireless readout device is not good, you can use an extension cable to fix the problem. To allow for long-term use, the 100cm extension cable is ruggedly constructed. Both the connectors and the cable are made of quality material.
What are the specifications of the OBD extension cable straight?
Type: OBD2 male to female
Connector: straight, 16 pin to 16 pin (standard OBD2 connector)
Cable length: 100 cm
What gets delivered?
You get a 100cm extension cable, suitable for an OBD2 connection.
Advantages & drawbacks
The location of the OBD connector can be moved with this cable, making it easier to access
With this extension cable you make the cable so long that you can also read outside the car
Too long and stiff to get rid of properly
Often purchased together with...
Review by Valkema
...
10-08-2023
Review by Axel
...
21-07-2023
Review by Autohuis Ulgersmaweg vof
...
06-03-2023
Review by Viktor Lindeboom
...
17-01-2023
Review by Joanna Olejnik
better only ordering...
better beordeling defects in my work differentiate car brands
14-11-2022
Review by Drillco nv
Apparently, there was already ...
Apparently there was already a cable with the device
06-10-2022
Review by Francois Holsters
...
03-10-2022
Review by Ruiter
Not yet used m...
Not used yet but always handy
02-09-2022
Review by Richard Ekkel
...
08-08-2022
Review by MJK Studio Auto's Detailing
Great product for...
Great product at a great price
17-05-2022
Review by Vanoverschelde Peter
Very clear menu...
Very clear menus, versatile.
04-04-2022
Review by AWM
Does exactly what nod...
Does exactly what is needed no more no less
28-02-2022
Review by M.postma
Convenient because with ...
Handy because with the standard cable you otherwise have to be on your knees with it
08-02-2022
Review by andre van hoppe
...
07-02-2022
Review by Cederik Warnitz
It is easier w...
It is easier to work with a longer cable.
12-01-2022
Review by The Cycle
It works. What can j...
It works. What else can you say about a cable?
24-11-2021
Review by Ton
Can't what belo...
Cannot do what is promised
25-10-2021
Review by L. van Essen
Good quality and e...
Good quality and an excellent length.
02-06-2021
Review by ProGear drive systems
Plain and simple ...
Simple and easy to operate
20-05-2021
Review by A,Piras
great length more...
great length more ease with getting in and out
03-02-2021
Review by Rik
Actually no need...
Actually not necessary with this apperate.
07-07-2020
Review by M.
Works well. No ver...
Works well. No loss on signal
14-01-2019
Review by anonymous
Useful for verl...
Useful for extending your cable if it is too short.
18-12-2018
Review by Hoogendoorn
Not every exeminer h...
Not every exeminer has this plug by default
25-10-2018
Review by Anton de Lugt
Cable does what it m...
Cable does what it is supposed to do there no complaints about it.
24-07-2018
Review by Filip
You can go back your...
You can return to maintaining your car yourself in a professional manner.
21-02-2017