Foxwell NT301 OBD II Universele Scantool APK2
Foxwell NT301 OBD II Universele Scantool APK2
De Foxwell NT301 is de makkelijkste EOBD/OBD2 foutcodelezer om een goede en snelle diagnose te stellen in het motormanagement. Fouten worden snel en effectief gevonden door middel van de I/M Readiness functie. Tevens is live data weergeven mogelijk op het kleurenscherm van de NT301. Het resetten van de foutcodes (DTC's) en het motormanagement lampje uitschakelen is met een paar drukken op de knop gedaan.
✓ EOBD uitleesapparaat geschikt voor APK2 regels
✓ Motorfoutcodes uitlezen en wissen
✓ Live data weergegeven
✓ Emissie test met 1 druk op de knop
✓ O2 Sensor data weergeven
✓ Nederlandstalige handleiding
✓ Gratis updates
Read more
Got a question about this product?
Our team is ready to answer all your questions.
FAQ
Contact us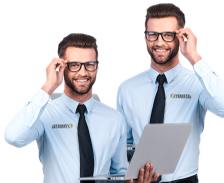 Foxwell NT301
De Foxwell NT301 werkt met alle OBD2/EOBD compatibel personenauto's, SUV's, hybride auto's en bestelwagens, benzineauto's vanaf bouwjaar 2001 en dieselauto's vanaf bouwjaar 2004. De scantool is zeer makkelijk in gebruik en is plug en play, aansluiten op de OBD poort, auto op contact en het apparaat start op. Door middel van het overzichtelijke kleurenscherm is informatie makkelijk af te lezen, zoals de live data, foutcodes of extra informatie.
De functionaliteiten van de NT301
Compatibel met alle EOBD en OBD2 voertuigen (benzine vanaf 2001 en jonger en diesel vanaf 2004 en jonger)
Lezen en wissen van foutcodes (DTC's)
Diagnose van de emissiestatus met 1 druk op de knop
APK 2 gecertificeerd
Automatische VIN/chassisnummer herkenning
Wissen van het motorstoringslampje (MIL)
Freeze Frame data uitlezen van het moment dat de motorstoring is ontstaan
Live data uitlezen
Sensor data weergeven in grafieken
Leest O2 sensor data
Leest voertuiginformatie (VIN, CID en VCN)
Foutcodedatabase met duizenden foutcodes en de betekenis
Meertalige menustructuur
Unieke 1-klik updatefunctie
Levenslange gratis updates
2,8 inch TFT kleurenscherm
Sneltoetsen om veelgebruikte functies op te slaan
Wat wordt er meegeleverd?
De Foxwell NT301 wordt met de volgende accessoires geleverd:
Foxwell NT301 scantool
Nederlandstalige gebruikershandleiding
USB kabel
Updates
Updates voor de Foxwell NT301 zijn levenslang gratis na afschaf. Updaten is kinderlijk eenvoudig met de zogenaamde 1-klik update van Foxwell.
Advantages & drawbacks
EOBD/OBD2 uitleesapparaat geschikt voor APK2 regels
Motorfoutcodes uitlezen en wissen
Live data weergegeven
Emissie test
O2 Sensor data weergeven
Gratis updates
Beperkt tot het uitlezen en wissen van foutcodes in de motor
Often purchased together with...
Specs summary
Manufacturer

Abarth, Alfa Romeo, Aston Martin, Audi, BMW, Bentley, Chevrolet, Chrysler, Citroën, Dacia, Daihatsu, Dodge, Ferrari, Fiat, Ford EU, Ford USA, General Motors, Honda, Hyundai, Infiniti, Jaguar, Jeep, Kia, Lamborghini, Lancia, Land Rover, Lexus, Maserati, Mazda, Mercedes, Mini, Mitsubishi, Nissan, Opel, Peugeot, Porsche, Renault, Rolls-Royce, Saab, Seat, Skoda, Smart, Subaru, Suzuki, Iveco, Toyota, Universeel, Volkswagen, Volvo

Device properties

APK 2, Gratis updates, Uitleesapparaat, Updates

Features

Foutcodes wissen, Freeze frame, Lambdasonde / o2 sensors, Live data, Motor uitlezen, Motormanagement reset, Scantool

Protocol

CAN, EOBD, ISO 9141, J1850 PWM, J1850 VPW, K-Line, KWP-2000, OBD2
No reviews have been published.