Foxwell NT530 Volkswagen / Audi / Seat / Skoda
Foxwell NT530 Volkswagen / Audi / Seat / Skoda
The Foxwell NT530 is marketed specifically for the Volkswagen / Audi / Seat and Skoda brands. The software is specifically designed for the cars from the Volkswagen Audi group, so that the cars can be read at a very high level. This diagnostic scan tool diagnoses at dealer level in every electronic system present in the car. In addition, the diagnostic tool can do much more than just the standard diagnostic functions such as reading and erasing error codes and live data displayed. Advanced options such as actuator control, learning, programming are also among its capabilities, as well as a number of service options such as oil service, EPB, steering angle sensor and particulate filter regeneration.
✓ EOBD/OBD2 engine management diagnosis
✓ OBD1 diagnosis
✓ Diagnosis of all modules
✓ Live data and Freeze Frame data display
✓ Controlling actuators, resetting adaptation values
✓ Programming and teaching components
✓ Service capabilities: oil/service reset, SAS, particulate filter, EPB, SRS
Read more
Got a question about this product?
Our team is ready to answer all your questions.
FAQ
Contact us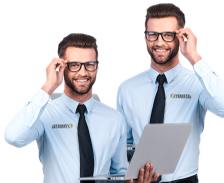 Foxwell NT530 is a unique scanning tool for Volkswagen / Audi / Seat / Skoda
What makes the Foxwell so unique are its extensive capabilities at a very reasonable price. In addition to the standard capabilities of an OBD2 scan tool, the device has many other features on board. Special functions needed to test components, learn parts or program ECUs are included. In terms of service capabilities, the diagnostic tool also comes up short: oil interval setting, electronic parking brake release, soot filter regeneration and steering angle sensor calibration can be done with the NT530.
The functionalities at a glance
Below is a brief overview of the features offered by the device. At the very bottom of the page you will find feature lists for each brand.
Reading and erasing error codes in all systems in the car: engine, abs, airbag, automatic, immobilizer, air conditioning, etc.
The screen displays the meaning of the error code
Turns off the fault light
Displays live data from the sensors, in text and graph form
Display of Freeze Frame data
Quick test function for most electronic systems
Releases the EPB (electronic parking brake) for changing brake pads, for example
Performs bi-directional component activations; manually operate components on the car to test their function
Can encode modules in different ECUs
Also, the scan tool can perform very specific actions:
Resetting the oil inspection light
Setting of service intervals
Erasing of adaptation values
Teaching of throttle body
Registering a newly installed battery
Bleeding of ABS
Regenerating the particulate filter (DPF regeneration)
Adjustment of headlights
Calibration of steering angle sensor
Teach-in of parts
Look for all functionalities at the bottom of the page in the function lists
Updates for the Foxwell NT530

After registering the Foxwell scanner, you will receive lifetime free updates, updateable via the FoxAssist software.
Advantages & drawbacks
EOBD/OBD2 engine management diagnosis
OBD1 diagnosis
Diagnosis of all modules
Live data and Freeze Frame data display
Controlling actuators, resetting adaptation values
Programming and teaching parts
Service capabilities: oil/service reset, SAS, particulate filter, EPB, SRS
Only suitable for Volkswagen, Audi, Skoda and Seat (but upgradeable with other car brands!)
Windows computer or laptop required to install the software on the tester
Often purchased together with...
Specs summary
Manufacturer

Audi, Bentley, Lamborghini, Seat, Skoda, Volkswagen

Device properties

Free updates, Handheld, Updates

Features

ABS, Battery coding, Controlling Actuators, Airbag, Teach in, Component testing, Operate electronic parking brake, Erase fault codes, Freeze frame, Teach in throttle valve, Injector coding, Parts coding, Lambda probe / o2 sensors, Live data, Engine diagnostics, Engine management reset, Oil reset, Coding, Brake pad reset, DPF regeneration, Scantool, Service reset, Immobilizer, Calibrate steering angle sensor, Transmission

Protocol

CAN, EOBD, ISO 9141, J1850 PWM, J1850 VPW, K-Line, KWP-2000, OBD1, OBD2
Review by Andreas Havermans
For now only v...
Only needed for 1 notification so far
13-09-2021
Review by Medze Machineverhuur
VW functies prima. ...
VW functions fine. OBD II is disappointing,only engine and transmission
03-08-2021
Review by anonymous
Because I spent half a ...
Since I have a Golf 7 1.0 tsi for six months I was looking for a suitable hand scanner. At some point it's necessary to have it anyway I had a malfunction with my throttle body and like replacing rear brake discs etc, it's also badly needed. I used it right away when cleaning the throttle body and re-learning it and the malfunction was solved. Other than that, I set the service interval correctly. This really brings its money's worth. I find such a hand scanner much nicer to work with than, say, a vagcom.
30-12-2019
Review by Remco
It is an easy...
It is an easy to operate device after Update it allows everything and just works very easily
22-11-2019
Review by anonymous
comprehensive possible...
expanded capabilities for the vag group
08-06-2018
Review by Roy Kapel
Good device, mak...
Good device, easy to operate and very clear. Handy is that the device recognizes the car. No need to search for the engine type of the car.
03-05-2017