Autel AutoLink AL629 ABS, Airbag en OBD2
Autel AutoLink AL629 ABS, Airbag en OBD2
De Autel AL629 (EU) is de opvolger van de succesvolle Autel AL619 en is gechikt voor auto's uitgerust met OBD2 / EOBD (ook CAN). In Europa geldt dit in de regel voor benzineauto's vanaf bouwjaar 2001 en voor diesel vanaf 2004. Het Autel AL629 uitleesapparaat kan makkelijk een betrouwbare en volledige diagnose stellen, doordat deze scantool alle 10 modus van OBD2 / EOBD ondersteunt. Tevens ondersteund deze diagnosetool ABS en Airbag en Transmissie van onderstaande de automerken genoemd onder aan de pagina. Dit betreft de Nederlandstalige AL629 met updates van Autel Nederland.
Read more
Got a question about this product?
Our team is ready to answer all your questions.
FAQ
Contact us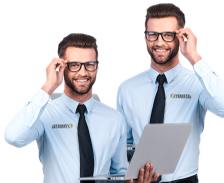 Autel AL629 OBD2, ABS, Airbag en Transmissie diagnoseapparaat
De Autel AL629 leest en wist foutcodes in het motormanagement van auto's die OBD2 compatible zijn. Naast het uitlezen van het motormanagement, leest en wist de AL629 foutcodes in het ABS en Airbag systeem van de auto. Het apparaat geeft zowel generieke, fabrikant specifieke en sporadische foutcodes weer. Bij elke gevonden foutcode geeft de AL629 een korte tip over waar de oorzaak van de foutcode kan liggen. Het inzien van freeze data en het real time weergeven van sensordata is ook mogelijk met de Autel AL629.
De mogelijkheden van de Autel AutoLink AL629
Alle auto's met OBD2 / EOBD (ook CAN) worden ondersteund. In Europa geldt dit in de regel voor benzineauto's vanaf bouwjaar 2001 en voor diesel vanaf 2004.
Uitlezen en resetten van Airbag, ABS en Transmissie systemen
Ondersteunt alle 5 de OBD2 / EOBD protocollen en alle 10 test modus
Geavanceerde mode 6 ondersteuning
Leest (en wist) zowel generieke, fabrikant specifieke als sporadische foutcodes
Ondersteunt alle 29 bits Canbus systemen zoals bij sommige BMW, Fiat en Mercedes modellen
Foutcodes worden met omschrijving weergegeven op het TFT-scherm
Foutcode tips helpen om sneller de oorzaak van een foutcode vast te stellen
Mogelijkheid voor het bekijken van bevroren data (freeze frame) en live data, ook grafische weergave
Uitlezen van voertuiginformatie zoals VIN, CIN en CVN
Snel, krachtig en zeer betrouwbaar
Verhoogt de efficiëntie en zorgt voor veiligheid op de werkplek
Eenvoudig in gebruik met intuïtieve menu-opbouw
Ergonomisch ontwerp met rubberen bescherming en robuuste behuizing
Kleuren TFT-scherm met audio functie voor optimaal gebruikersgemak
Mogelijkheden voor updaten via het internet
Uitleesresultaten kunnen via de PC afgedrukt worden
Wat wordt er meegeleverd bij de AL629?
Universele OBD2 / EOBD kabel
USB-kabel voor printfunctie en updates
Stevige nylon draagtas
Handleiding
De Autel AL629 ondersteund in ieder geval de ABS en Airbag van de volgende merken:
Acura
Audi
Bentley
BMW
Bugatti
Chevrolet
Chrysler
Citroen
Dacia
Daewoo
Fiat
Ford USA
Ford EU
GM
Honda
Hyundai
Infinity
Jaguar
Jeep
Kia
Lancia
Land Rover
Lexus
Maybach
Mazda
Mercedes
Mini
Mitsubishi
Nissan
Opel
Peugeot
Porsche
Renault
Saab
Scion
Seat
Skoda
Smart
Sprinter (Mercedes)
Subaru
Suzuki
Toyota
Volkswagen
Volvo
OBD Warenhuis levert enkel originele Autel producten, geleverd door Autel Nederland.
Advantages & drawbacks
Betaalbaar uitleesapparaat om EOBD/OBD2 motor, ABS en Airbag foutcodes uit te kunnen lezen en wissen
Geeft I/M readiness emissie status O2 monitor status, freeze frame data en live data weer
Nederlandstalige software
Geschikt voor elk automerk
Gratis updates
Resultaten via Windows PC te printen
Alleen geschikt voor auto's met het OBD2 protocol: benzine motoren vanaf bouwjaar 2001 en jonger en diesel motoren vanaf bouwjaar 2004 en jonger
Often purchased together with...
Specs summary
Manufacturer

Abarth, Alfa Romeo, Aston Martin, Audi, BMW, Bentley, Chevrolet, Chrysler, Citroën, Dacia, Daihatsu, Dodge, Ferrari, Fiat, Ford EU, Ford USA, General Motors, Honda, Hyundai, Infiniti, Jaguar, Jeep, Kia, Lamborghini, Lancia, Land Rover, Lexus, Maserati, Mazda, Mercedes, Mini, Mitsubishi, Nissan, Opel, Peugeot, Porsche, Renault, Rolls-Royce, Saab, Seat, Skoda, Smart, Subaru, Suzuki, Toyota, Universeel, Volkswagen, Volvo

Device properties

Gratis updates, Uitleesapparaat, Updates

Features

ABS, Airbag, Foutcodes wissen, Freeze frame, Lambdasonde / o2 sensors, Live data, Motor uitlezen, Motormanagement reset, Scantool

Protocol

CAN, EOBD, ISO 9141, J1850 PWM, J1850 VPW, K-Line, KWP-2000, OBD2
No reviews have been published.