Autel MaxiCheck MX808
De Autel MX808 is een Android diagnosetablet van de nieuwste generatie. De 808 kan de meest voorkomende servicehandelingen verrichten zoals olie/service resets, dieselpartikelfilter regeneren, sleutels en injectoren inleren en nog veel meer. Dit is de meest complete diagnosecomputer onder de €1000,- van het moment. Doordat er veel techniek van de duurste MaxiSys serie is gebruikt, komen de updates snel en zijn de nieuwste auto's als eerste beschikbaar binnen de MX808. Zonder de MX808 is geen enkele werkplaats compleet!
✓ EOBD/OBD2 motormanagement diagnose
✓ OBD1 diagnose
✓ Touchscreen Android tablet ontwerp
✓ Diagnose van alle modules
✓ Live data en Freeze Frame data weergave met de mogelijkheid deze op te slaan en opnieuw af te spelen
✓ I/M Readiness emissietest
✓ Service mogelijkheden: BMS, SAS, DPF, EPB, SRS, Olie reset
✓ Basis TPMS mogelijkheden
✓ Inleren injectoren
Read more
Got a question about this product?
Our team is ready to answer all your questions.
FAQ
Contact us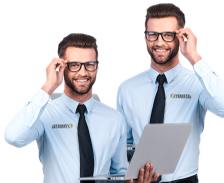 Autel MaxiCheck MX808
De nieuwe Autel MaxiCheck MX808 kan alle merken en modules uitlezen, zelf de nieuwste auto's zijn over het algemeen geen probleem, vaak schieten de meeste diagnoseapparaten hierin tekort. Daarbij heeft de MX808 veel service functies en maakt dit een apparaat dat in geen enkele professionele werkplaats mag missen. De MX808 is volledig van de grond af opnieuw ontwikkeld door Autel met als basis de professionele MaxiSys systemen en heeft nieuwste technologie aan boord. De servicefuncties zijn veelal een stuk uitgebreider dan de Autel MD808 Pro. Natuurlijk mogen EPB, DPF (regeneratie dieselpartikelfilter) en het resetten van de service interval niet ontbreken als standaard bij deze modellen. Wat de MX808 zich hierin onderscheid, is onder andere de TPMS functies, het inleren van injectoren en de mogelijkheid voor het programmeren van nieuwe sleutels.
De mogelijkheden van de professionele MaxiCheck MX808 op een rij:
De Autel MX808 is op het moment de beste tool beschikbaar onder de €1000,-, doordat deze veel technologie deelt met de MaxiSys broertjes, zijn de updates ook frequenter en zijn er meer recentere modellen sneller beschikbaar. Doordat de MX808 verder gaat dan alleen servicefuncties en het diagnosticeren van problemen, hoeven er geen verschillende apparaten aangeschaft te worden en kan alles door de MX 808 gedaan worden. Dit scheelt tijd en hoeft u voor bepaalde speciale functies niet meer naar de dealer. Hieronder in het kort de mogelijkheden van de 808:
Leest en wist foutcodes in alle systemen van de auto
Live- en freeze frame data weergeven van alle systemen van de auto
Uitgebreide service functies
Olie service reset
Resetten van onderhoudsintervallen
Accu reset en accu registratie (BMS)
(Geforceerd) regenereren van het roetfilter (DPF)
Resetten van de stuurhoeksensor (SAS)
Vrijgeven elektrische parkeerrem (EPB) en remblok reset
Componenten testen
Injectoren programmeren
Gasklephuis inleren
Programmeren van sleutels
Live data opnemen en afspelen
Basis TPMS functies
O2 monitor, on-board monitor, I/M readiness uitvoeren
Diagnoserapporten printen via de PC
Eerste jaar gratis updates, daarna 235 euro per jaar (niet verplicht).
Wat krijgt u geleverd?
Autel MaxiCheck MX808 diagnosetablet
Handleiding
OBD2 datakabel
Externe voedingsadapter
Opbergkoffer
Het kan soms lastig zijn om het verschil te zien tussen bepaalde producten, daarom hebben wij verschillende lijsten beschikbaar met de verschillen tussen de producten. Mocht u hierna nog vragen hebben, kan u natuurlijk altijd even contact met ons opnemen. Het verschil tussen de MD808 Pro en de MX808 is het volgende: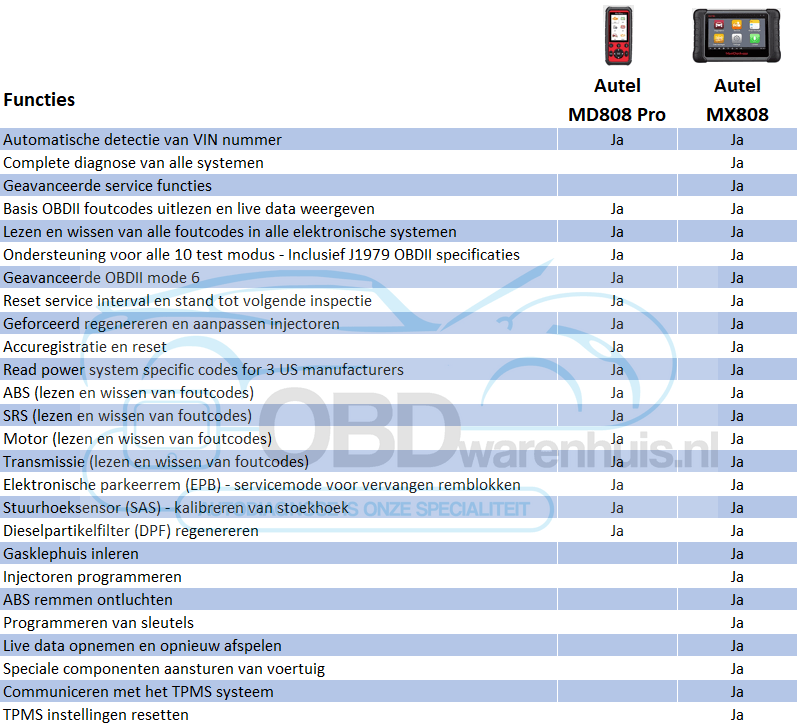 Advantages & drawbacks
EOBD/OBD2 motormanagement diagnose
OBD1 en OBD2 diagnose
Diagnose van alle modules
Live data en Freeze Frame data weergave met de mogelijkheid deze op te slaan en opnieuw af te spelen
I/M Readiness emissietest
Service mogelijkheden: BMS, SAS, DPF, EPB, SRS, Olie reset, inleren injectoren
Touchscreen Android tablet ontwerp
Geen draadloze diagnose mogelijk zoals bij de MX808TS
Eigen accu die om de zoveel tijd opgeladen dient te worden
Often purchased together with...
Specs summary
Manufacturer

Abarth, Alfa Romeo, Aston Martin, Audi, BMW, Bentley, Chevrolet, Chrysler, Citroën, Dacia, Daihatsu, Dodge, Ferrari, Fiat, Ford EU, Ford USA, General Motors, Honda, Hyundai, Infiniti, Jaguar, Jeep, Kia, Lamborghini, Lancia, Land Rover, Lexus, Maserati, Mazda, Mercedes, Mini, Mitsubishi, Nissan, Opel, Peugeot, Porsche, Renault, Rolls-Royce, Saab, Seat, Skoda, Smart, Subaru, Suzuki, Toyota, Universeel, Volkswagen, Volvo

Device properties

Eigen accu, Touchscreen, Uitleesapparaat, Updates

Features

ABS, Accu inleren, Airbag, Elektronische parkeerrem openen, Foutcodes wissen, Freeze frame, Gasklep inleren, Injectoren inleren, Inleren onderdelen, Interface, Lambdasonde / o2 sensors, Live data, Motor uitlezen, Motormanagement reset, Olie reset, Remblok reset, Roetfilter regeneren, Scantool, Service reset, Startonderbreker / immo, Stuurhoeksensor kalibreren, Transmissie

Protocol

CAN, EOBD, ISO 9141, J1850 PWM, J1850 VPW, K-Line, KWP-2000, OBD1, OBD2
No reviews have been published.