OBDLink CX - Bimmercode
By Kaj Albers - 20 Mar 2021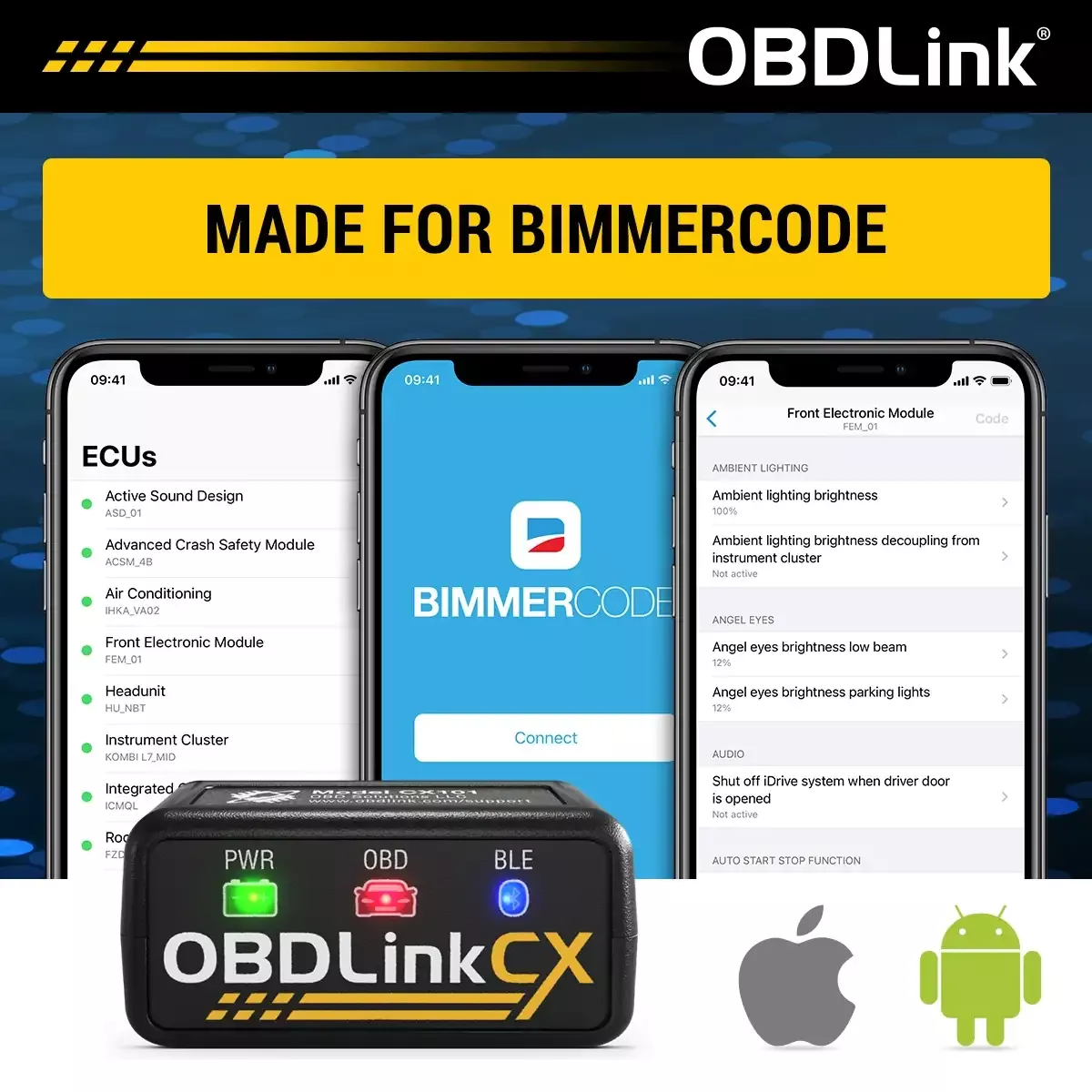 Introducing OBDLink and Bimmercode

The American brand OBDLink has been producing high-quality OBD2 products for many years, since 2002. The components used are innovative and ahead of the competition. For example, OBDLink uses the fastest chipset available, it automatically recognizes OBD protocols, there is a unique PowerSafe feature and there is large data buffer, which is necessary for all the data sent by new cars. By continuously monitoring the market, listening carefully to users and continuing to develop, OBDLink remains at the forefront of their products.
Developing products for specific issues
That OBDLink spends a lot of time developing good hardware products for specific purposes is obvious. After developing the popular OBDLink EX for Forscan, it is now time for the OBDLink CX. The CX is designed specifically for the Bimmercode app. Due to an intensive cooperation between OBDLink and Bimmercode, we can now offer this beautiful OBDLink CX.
What makes the OBDLink CX perfect for Bimmercode?
In developing the CX, a number of key issues were addressed for an optimal user experience. Top priority was given to 100% BMW vehicle coverage, a very stable connection and easy to pair device with both Android and iOS.
The user needs were carefully considered. From the BMW and Mini scene, there was a lot of demand for a good quality and affordable product to code yourself. Since this demand came from all kinds of different BMW owners, it was therefore very important that every BMW and Mini model could be encoded available in the Bimmercode app. Therefore, the OBD protocols of the BMWs and Minis had to be able to communicate with the CX and the Bimmercode app. This eventually worked out!
When encoding, a stable connection between the app and the vehicle, via the OBDLink CX dongle, is very important. We should not think about the fact that during encoding the connection is lost with all its consequences. Thus, no corrupt, but completely correct, data is transmitted. This prevents faulty ECUs.
The connection is a so-called Bluetooth 5.1 BLE (Bluetooth low energy) connection. The 5.1 generation provides better cache, which improves speed and has lower energy consumption. The CX can connect to Android devices and iOS (Apple) devices.
General OBD2 diagnosis with the free OBDLink app
The OBDLink CX can also be used on any other brand of car with the free OBDLink app included. The OBDLink app can read the engine management of any car, clear found error codes and display live data. Keep in mind that this only works on cars that communicate via OBD2/EOBD. These are gasoline cars from year 2001 to now and diesels from year 2004 to now. So you can use the OBDLink CX for diagnosis and coding on BMW and Mini and for diagnosis on any make of car.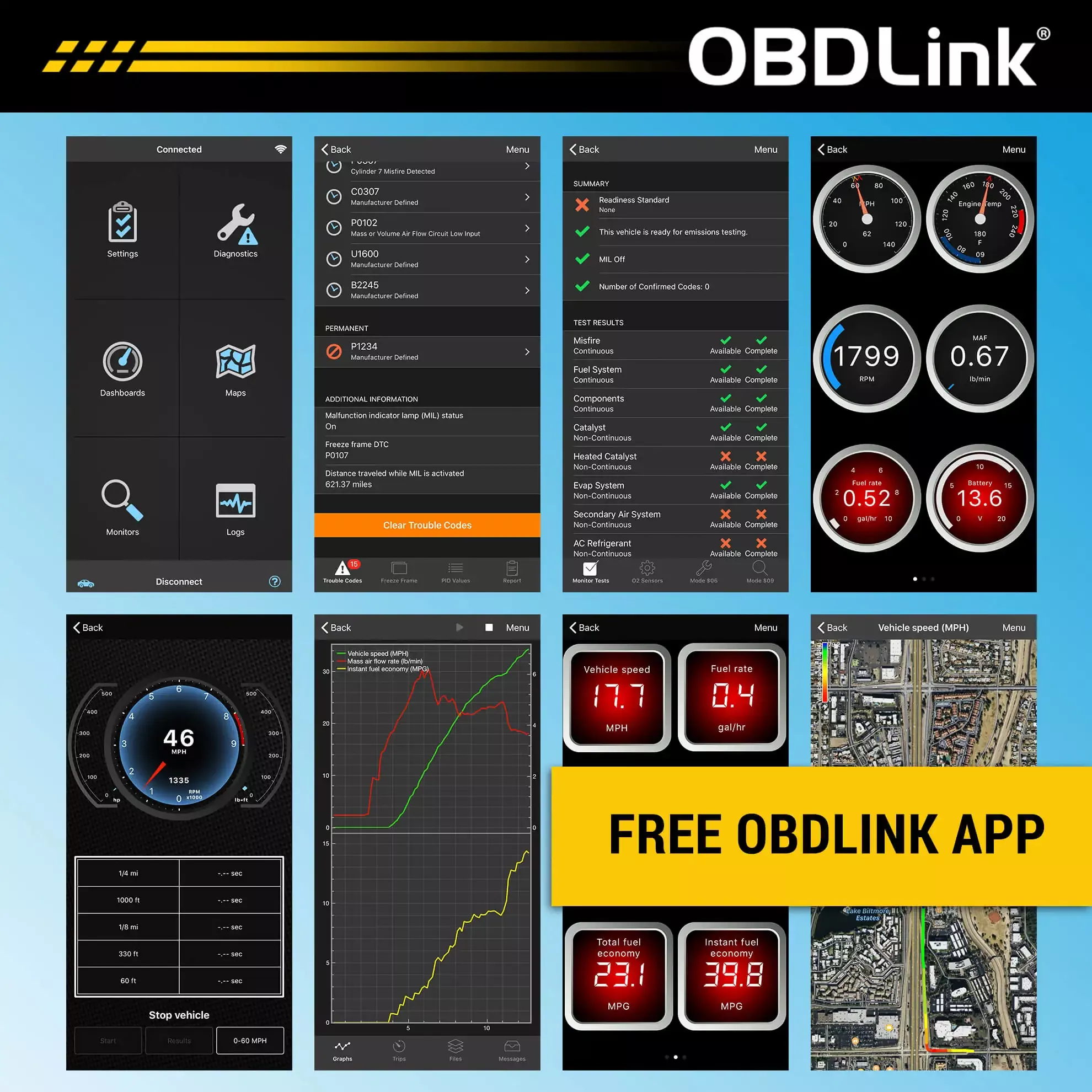 Cost OBDLink CX and Bimmercode
The OBDLink CX offers great value for money. For 109 euros the OBDLink CX can be purchased and the Bimmercode app costs €34.99. The OBDLink app comes free with the CX.
Capabilities Bimmercode and supported models
The Bimmercode app can code control units in BMW or Mini to unlock hidden functions and customize the car to your liking. For example, activate the digital speed display in the instrument cluster or let passengers watch videos in the iDrive system while driving. Also, the Auto Start / Stop function or Active Sound Design can be disabled? This is just a small selection of the possibilities.
Supported cars
- 1 serie (2004+)
- 2-serie, M2 (2013+)
- 2 Serie Active Tourer (2014+)
- 2 Serie Gran Tourer (2015+)
- 3-serie, M3 (2005+)
- 4-serie, M4 (2013+)
- 5-serie, M5 (2003+)
- 6-serie, M6 (2003+)
- 7-serie (2008+)
- 8-serie (2018+)
- X1 (2009+)
- X2 (2018+)
- X3, X3 M (2010+)
- X4, X4 M (2014+)
- X5, X5 M (2006+)
- X6, X6 M (2008+)
- X7 (2019+)
- Z4 (2009+)
- i3 (2013+)
- i8 (2013+)
- Mini (2006+)
- Toyota Supra (2019+)
Advantages and disadvantages OBDLink CX
The OBDLink CX has many advantages and few disadvantages! We have briefly summed it up.
The advantages:
Standard OBD2/EOBD support for operation on any car
Free OBDLink app for engine management diagnosis on any car make
Supports coding functions for BMW and Mini with the Bimmercode app
Compact design and almost no power consumption. Can just stay in the car because of this!
Most affordable option for coding BMW and Mini models
Very stable Bluetooth connection, without data corruption
The disadvantages:
Not suitable for Windows PC
Not suitable for OBD1 cars (diesel older than the year 2004 and gasoline older than the year 2001)
Conclusion
The OBDLink CX is a must have for those who want to enable options in their BMW or Mini themselves and also do engine diagnostics. The only downside is that the Bimmercode app must be purchased separately in the Play Store / App Store and does not come as a complete package with the OBDLink CX.