iCarsoft VOL V3.0 Volvo / Saab
iCarsoft VOL V3.0 Volvo / Saab
A short time ago, iCarsoft released the VOL V1.0 and the VOL V2.0. Now on this line the new iCarsoft VOL V3.0 has been released. The VOL V3.0 has all the features that the V1.0 and V2.0 also have and on top of these features, the V3.0 can code, calibrate and learn. This means that functions that until now were only available to professional equipment have also been made available to consumers. For complete coverage by model and component you can look at the bottom of the page at the function lists.

✓ Full EOBD/OBD2 support
✓ Read and clear error codes in all existing Volvo and Saab systems
✓ Live data and freeze frame display
✓ Special functions: Oil/service reset EPB, SAS, DPF, ETC
✓ Component control and coding
✓ Reset adaptation values
✓ Calibration of components

Read more
Got a question about this product?
Our team is ready to answer all your questions.
FAQ
Contact us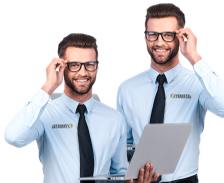 iCarsoft VOL V3.0 Volvo and Saab
If you are looking for a device for Swedish cars both old or new, the iCarsoft VOL V3.0 is a good choice. You can use the VOL V3.0 to perform comprehensive diagnostics in all systems, perform all your service operations like controlling the EPB, learning the battery, resetting service intervals and much more. The VOL V3.0 can now also control components, for example a fuel pump, calibrate components such as headlights and erase learned values from the transmission. In short, really a device for the advanced and demanding hobbyist. Below you can briefly find the most important points, if you are looking for exact information, we recommend you to consult the function lists at the bottom of the page to see if your car is also supported. If you can't figure it out, of course we are happy to help you!
What is the iCarsoft VOL V3.0 capable of?
Full readout of the OBD2/EOBD engine management
Display of live and freeze frame data
Readout of VIN, CIN and CVN vehicle information and automatic vehicle
Reading out other Volvo and Saab specific electronic systems, such as ABS, airbags, transmission, instrument panel, brakes, lights etc.
Resetting and setting of oil/service intervals
Battery registration (BMS)
Opening and closing of the electronic parking brake (EPB)
Steering angle sensor calibration
DPF for particulate filter regeneration
ETC for throttle valve learning/calibration
Coding injectors
Body control module (BCM), for example resetting or deleting adaptation values and controlling the module
Transmission (TCM), for example, resetting or deleting adaptation values and changing the oil level
TPMS programming new sensor IDs and reading and resetting error codes in the system
Air suspension adaptation values and control
Controlling and resetting the air conditioning compressor
Calibration of the seats
Calibration of the headlights
Free lifetime updates from iCarsoft

Vol V3.0 supported models:
Volvo vehicles
Volvo 850 construction year 1996-1997
Volvo 960 construction year 1996-1997
Volvo C30 construction year 2007-2013
Volvo C70 construction year 1998-2013
Volvo C70 Coupe construction year 1998-2002
Volvo S40 construction year 1996-2012
Volvo S60 construction year 2001-2018
Volvo S70 construction year 1997-2000
Volvo S80 construction year 1999-2016
Volvo S90 construction year 1997-1998
Volvo S90 construction year 2017-2018
Volvo S90L construction year 2017-2019
Volvo V40 construction year 1996-2004
Volvo V40 construction year 2013-2018
Volvo V50 construction year 2004-2012
Volvo V60 construction year 2011-2018
Volvo V70 construction year 1997-2016
Volvo V70 XC construction year 1998-2000
Volvo V90 construction year 1997-1998
Volvo V90 construction year 2017-2018
Volvo V90 Cross County (17 -) construction year 2017-2018
Volvo XC40 construction year 2018
Volvo XC60 construction year 2009-2018
Volvo XC70 construction year 2001-2016
Volvo XC90 construction year 2003-2016
Volvo XC90 NEW MODEL (16 -) construction year 2016-2018
Saab vehicles
SAAB-900 construction year 1994 - 1997
SAAB-9000 construction year 1995 - 1997
SAAB-93 construction year 1998 - 2003
SAAB-93-Sport construction year 2003 - 2012
SAAB-94X construction year 2011 - 2012
SAAB-95 construction year 1998 - 2012
SAAB-95-II construction year 2010
SAAB-97X construction year 2005 - 2009
What gets delivered with the iCarsoft?
iCarsoft VOL V3.0 diagnostic and service device
Universal OBD2 (system) cable
USB cable for updates
Storage bag
Manual
iCarsoft VOL V3.0 languages:
Danish
German
English
Finnish
French
Hungarian
Italian
Dutch
Norwegian
Polish
Portuguese
Russian
Spanish
Czech
Swedish
Advantages & drawbacks
Full EOBD/OBD2
Support for old OBD1 vehicles
Read and clear error codes in all existing systems
Live data and freeze frame display
Special functions: Oil/service reset EPB, SAS, BMS, ETC
Controlling and coding components
Resetting adaptation values
Calibration of components
Software completely supported in English
Only suitable for Volvo and Saab
Often purchased together with...
Specs summary
Manufacturer

Saab, Volvo

Device properties

Free updates, Handheld, Updates

Features

ABS, Battery coding, Controlling Actuators, Airbag, Teach in, Component testing, Operate electronic parking brake, Erase fault codes, Freeze frame, Teach in throttle valve, Injector coding, Parts coding, Lambda probe / o2 sensors, Live data, Engine diagnostics, Engine management reset, Oil reset, Coding, Brake pad reset, DPF regeneration, Scantool, Service reset, Calibrate steering angle sensor, Transmission

Protocol

CAN, EOBD, ISO 9141, J1850 PWM, J1850 VPW, K-Line, KWP-2000, OBD1, OBD2
Review by frank Hebers
I wanted more, then h...
I wanted more, than the device can. Maybe after updates which possible?
14-09-2021