OBD2 Verlengkabel Recht 16 pins 30cm
OBD2 Verlengkabel Recht 16 pins 30cm
De 30 centimeter OBD2 verlengkabel kan gebruikt worden op een standaard OBD2 aansluiting van uw auto, motor of boot, om de kabel bij uw diagnose apparaat of interface te verlengen. Als de aangesloten OBD apparatuur hindert tijdens het rijden, kan deze bijvoorbeeld het door middel van deze verlengkabel op een andere plek geplaatst worden. Wanneer u gebruikt maakt van een draadloze interface, kan het helpen om de interface ergens anders te plaatsen om een beter signaal te krijgen. Deze kabel kan op elke willekeurige bluetooth of wifi adapter aangesloten worden.
Read more
Got a question about this product?
Our team is ready to answer all your questions.
FAQ
Contact us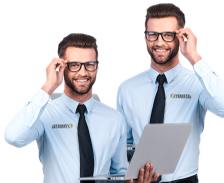 OBD2 verlengkabel 30 centimeter
Wanneer uw OBD poort in uw auto niet goed toegankelijk is, uw kabel van uw diagnoseapparatuur niet lang genoeg is, of wanneer uw signaal van uw draadloze OBD2 uitleesapparaat niet goed is, dan kunt u een verlengkabel gebruiken om het probleem te verhelpen. Om langdurig gebruik mogelijk te maken, is de 30cm verlengkabel robuust uitgevoerd. Zowel de connectoren als de kabel zijn van kwaliteitsmateriaal.
Auto's uit de PSA groep zijn jarenlang met slechte OBD2 connectoren geleverd. Vaak wordt er gebruik gemaakt van een korte stugge verloopkabel om diagnoseapparatuur aan te sluiten op deze voertuigen. De door ons geleverde OBD2 verlengkabel is hier zeer geschikt voor.
Wat zijn de specificaties van de OBD verlengkabel?

Type: OBD2 mannetje naar vrouwtje
Kant 1: 16 pins OBD2 mannetje
Kant 2: 16 pins OBD2 vrouwtje
Rechte aansluitingen
Lengte kabel: 30 cm
Robuuste dikke kabel
Robuuste aansluitingen aan beide kanten
Geschikt voor langdurige montage
Wat krijgt u geleverd?

U ontvangt een 30cm verlengkabel, geschikt voor alle OBD2 poorten en apparatuur.
Wij verzenden uw verlengkabel met de pakketpost en niet per briefpost, zoals veel bedrijven dat doen. Alle kabels leveren wij uit eigen voorraad en kunnen wij binnen 1 werkdag leveren.

Waarom de 30cm verlengkabel kopen?
Verlengkabels van OBD Warenhuis zijn van hoge kwaliteit, komen uit eigen voorraad en hebben 2 jaar garantie. Uw bestelling wordt gratis met de pakketpost geleverd met een trackingnummer.
De OBD2 verlengkabel biedt u meer flexibiliteit om uw draadloze interface op een beter plek te plaatsen voor optimaal bereik, of de live data van uw diagnoseapparaat goed uit te kunnen lezen tijden het rijden. Daarbij kan de verlengkabel bijvoorbeeld PSA connector problemen verhelpen door de strakke pasvorm van de connectoren.

Advantages & drawbacks
Handig om van een slechte OBD aansluiting een goede aansluiting te maken, zoals bij oudere Audi, Peugeot en Citroën modellen
De kabel is kort en hangt dan niet snel in de weg
De locatie van de OBD aansluiting kan met deze kabel verplaatst worden, waardoor je er makkelijker bij kunt
Stugge kabel en daardoor soms moeilijk weg te werken
Kan voor sommige doeleinden net iets te kort zijn
Often purchased together with...
No reviews have been published.