OBD2 Extension Cable Straight 16 pins 30cm
OBD2 Extension Cable Straight 16 pins 30cm
The 30 centimeter OBD2 extension cable can be used on a standard OBD2 connector of your car, motorcycle or boat, to extend the cable at your diagnostic device or interface. If the connected OBD equipment interferes with your driving, for example, it can be relocated using this extension cable. If you are using a wireless interface, it may help to place the interface somewhere else to get a better signal. This cable can be connected to any bluetooth or wifi adapter.
Read more
Got a question about this product?
Our team is ready to answer all your questions.
FAQ
Contact us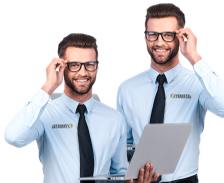 OBD2 extension cable 30 centimeters
When your OBD port in your car is not easily accessible, your cable from your diagnostic equipment is not long enough, or your signal from your wireless OBD2 reader is not good, you can use an extension cable to fix the problem. To allow for long-term use, the 30cm extension cable is ruggedized. Both the connectors and the cable are made of quality material.
Cars from the PSA group have been supplied with poor OBD2 connectors for many years. A short stiff adapter cable is often used to connect diagnostic equipment to these vehicles. The OBD2 extension cable we supply is well suited for this purpose.
What are the specifications of the OBD extension cable?

Type: OBD2 male to female
Side 1: 16 pin OBD2 male
Side 2: 16 pin OBD2 female
Straight connectors
Cable length: 30 cm
Rugged thick cable
Rugged connectors on both sides
Suitable for long-term installation
What do you get delivered?
You will receive a 30cm extension cable, suitable for all OBD2 ports and equipment.
We ship your extension cable by parcel post and not by letter post, as many companies do. We supply all cables from our own stock and can deliver within 1 business day.

Why buy the 30cm extension cable?
Extension cables from Carvitas are high quality, come from our own stock and have a 2-year warranty. Your order will be delivered by parcel post for free with a tracking number.

The OBD2 extension cable gives you more flexibility to place your wireless interface in a better location for optimal range, or to read the live data from your diagnostic device properly while driving. In addition, the extension cable can fix PSA connector problems, for example, due to the tight fit of the connectors.
Advantages & drawbacks
Useful for turning a bad OBD connection into a good one, such as on older Audi, Peugeot and Citroën models
The cable is short so it does not hang in the way easily
The location of the OBD connector can be moved with this cable, making it easier to access
Stiff cable and therefore sometimes difficult to eliminate
May be just a little too short for some purposes
Often purchased together with...
Review by Jo Clerx
Good quality hand...
Good quality convenient to move the OBD port
25-04-2023