OBD2 Verlengkabel Hoek 16 pins 30cm
OBD2 Verlengkabel Hoek 16 pins 30cm
De 30cm verlengkabel kan gebruikt worden op een standaard OBD2 connector om de kabel bij uw diagnose apparaat te verlengen. Als de OBD connector hindert tijdens het rijden, kan het door middel van de verlengkabel op een andere plaats gebracht worden voor een betere toegankelijkheid. Mocht u gebruik maken van een draadloos uitleesapparaat en is het bluetooth of wifi signaal niet sterk genoeg, doordat de aansluiting te ver onder het stuur zit? Dan is deze verlengkabel de ideale oplossing!
Read more
Got a question about this product?
Our team is ready to answer all your questions.
FAQ
Contact us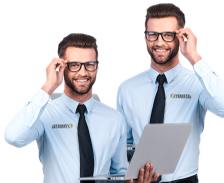 OBD2 verlengkabel 30cm
Wanneer uw OBD2 aansluiting in uw auto niet goed toegankelijk is, uw kabel van uw diagnoseapparatuur niet lang genoeg is, of wanneer uw signaal van uw draadloze uitleesapparaat niet goed is, dan kunt u een 30cm verlengkabel gebruiken om OBD aansluiting te verlengen naar de juiste plaats voor u. Op deze manier kunt u prettiger werken met uw diagnoseapparatuur. De stekker die in de auto wordt aangesloten is aan de zijkant bekabeld, zodat deze ook in nauwere ruimtes geplaatst kan worden.

Enkele auto's uit de PSA groep (Citroën en Peugeot) staan bekend om matige diagnoseaansluitingen, waarbij de ruimte in de poort te ruim is. Hierdoor wordt er geen, of slecht contact gemaakt met de diagnoseapparatuur. De 30cm verlengkabel biedt hier een oplossing. De stekker van de verlengkabel is namelijk wat groter uitgerust dan de stekker aan een diagnoseapparaat. Zo bent u er zeker van dat de connectie wel goed is.
Wat zijn de specificaties van de OBD verlengkabel?
Type: OBD2 mannetje naar vrouwtje
Stekker: hoek (speciaal voor kleine ruimtes) 16 pin naar 16 pin (standaard OBD2 aansluiting)
Lengte kabel: 30 cm
Robuuste materialen, ook geschikt voor intensief gebruik
Wat krijgt u geleverd?
U krijgt een 30cm verlengkabel met 1 connector in een hoek geplaatst, geschikt voor een OBD2 aansluiting, geleverd per pakketpost.
Waarom een 30cm OBD2 verlengkabel met een hoek stekker kopen?
Wanneer uw diagnosepoort in uw auto slecht te bereiken is, de kabel van uw diagnoseapparaat te kort is, of omdat de verbinding van uw draadloze diagnoseapparatuur slecht is, biedt deze verlengkabel meer flexibiliteit, betere toegankelijkheid en betrouwbaarheid. Doordat 1 stekker bedraad is aan de zijkant, past deze stekker ook in diagnoseaansluitingen die in krappe ruimtes geplaatst zijn.
Advantages & drawbacks
Handig om van een slechte OBD aansluiting een goede aansluiting te maken, zoals bij oudere Audi, Peugeot en Citroën modellen
De kabel is kort en hangt dan niet snel in de weg
De locatie van de OBD aansluiting kan met deze kabel verplaatst worden, waardoor je er makkelijker bij kunt
De stekker die in OBD aansluiting van de auto wordt geplaatst, is voorzien van een kabel aan de zijkant van stekker. Zo heeft de stekker zeer weinig ruimte nodig.
Stugge kabel en daardoor soms moeilijk weg te werken
Kan voor sommige doeleinden net iets te kort zijn
Often purchased together with...
No reviews have been published.